Date Night At the RV Show
Just because we're not in the market doesn't mean we can't dream
In Mission: Wanderlust, I write and podcast about our family's travel adventures and the things that we have learned along the way.
---
We were devoted tent campers. We set up our tent in rain or shine. We tent camped our way to Yellowstone National Park and back when we lived in the Chicago area. We woke up one morning on the beach with our entire tent floor covered in water after a night storm swept over us from Lake Michigan. We tolerated two nights of swarms of mosquitoes in Wisconsin before giving in and coming home a night early. When we set up camp in state parks, we mocked the people who set up their large RVs and said that we were "real" campers.
Then our daughter was born, and everything related to tent camping was so overwhelming that I didn't know if we would ever camp again.
By the time our second baby was two, we had gone two years without camping. Shortly before our son was born, my husband Jeff took our daughter camping with my sister and brother-in-law and determined that we needed to get back out there, but it would take him two more years to convince me that it was time to start looking at campers. We were broke and still bleeding money from a fixer-upper that was in constant need of repair. But he started looking at used campers shortly after he convinced me to make camping reservations for a weekend getaway in Gettysburg. We went from plans to tent camp to picking up our used hybrid right before we left for a few days in Pennsylvania away from the kids.
We didn't look back.
From that point on, we made it a yearly date to go to the closest RV show every year. Some years we went alone, some years we took the kids, and we weren't always looking for something new to take home. But we went to see new trends and dream about what our future could be as the kids got older and we were eventually empty nesters.
We started going to RV shows when we lived in Fort Wayne, a location close enough to most of the major manufacturers in the U.S. We spent several years attending in Houston, where several local dealers packed in as many RVs as they could into the NRG Center. So this year, after a couple of years off due to COVID, we decided it was time to return to the Indianapolis show on a double-date with my sister and brother-in-law to dream of the future and help them look for their own family.
The show wasn't as big as we would have hoped, but after years of looking at RVs and travel trailers, we have a pretty good idea of what we are looking for. We were hoping to see more hybrids for my sister's family but found a few possibilities that would push their vehicle to the limit. And Jeff and I looked at fifth wheels, dreaming of traveling around the country part-time while both of us work in our respective fields.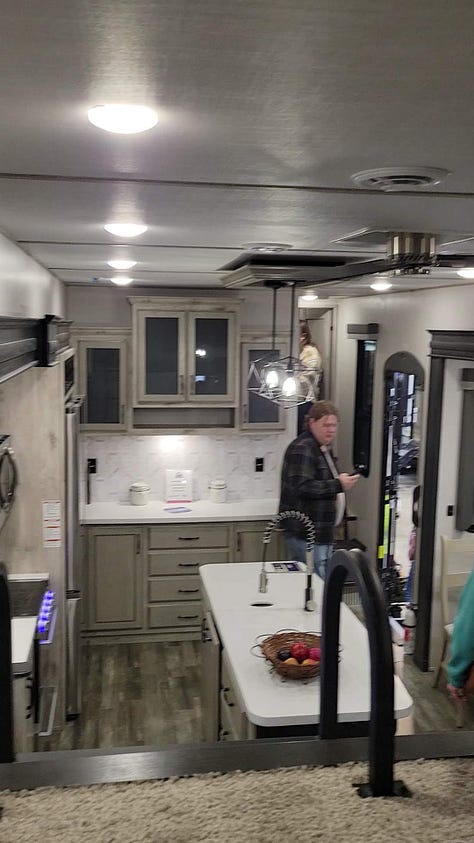 If you are contemplating packing away the tents or even getting outside for the first time, I highly recommend a date night at a local RV show. You will see so many options and many of the new innovations in the different types of recreational vehicles. While we dream about someday getting a fifth wheel, we also love looking at the much smaller options for short trips, considering how those options could have changed the way we traveled to Yellowstone nearly 20 years ago.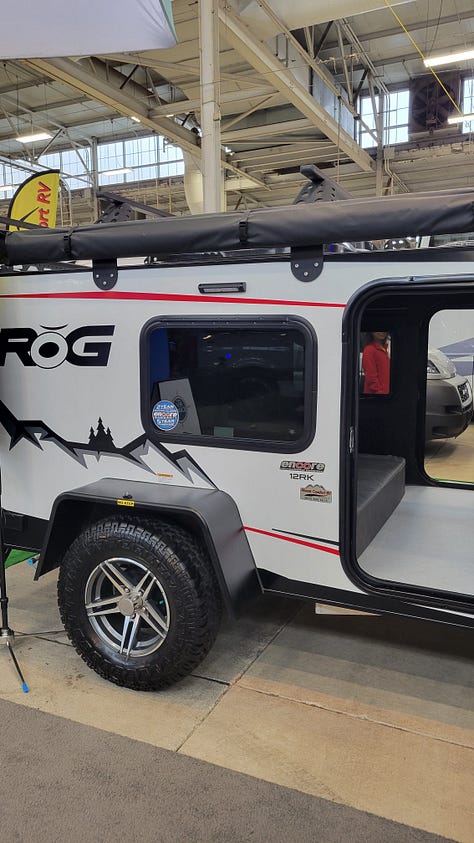 What about you? Where do you stand on the tent vs. RV debate? Do you also enjoy going to RV shows? Comment below.
Preorder my new book!
You can pre-order the e-book for the Kindle on Amazon. It will also be available on Kindle Unlimited. The paperback copy of the book is not available for pre-order but will be available for purchase on February 14.
And if you do purchase, please give it a favorable review on Amazon and Goodreads, or any other reading app that you might use.
---
Please "like" by clicking on the ❤ and share this post with your friends so that others can join me on the journey.
On the Journey is a reader-supported publication. To never miss a post and support my work, consider becoming a free or paid subscriber.
1
To be clear, we are five years away from our first kid going to college and we are not at all eager to see them leave. But we figure that we can still dream of what we want our lives to look like when the kids aren't traveling with us anymore, a reality that hits me a little harder with every birthday.
2
No, I haven't figured out what I would do in education if we were to take to the road, but I do have dreams of working for the National Park Service, so I guess we'll have to see what the options are in ten or so years.