Discover more from On the Journey
Reflections on middle age, family, faith, citizenship, and travel
Marriage Requires an Element of Fun
Yes, commitment matters, but so does the ability to enjoy time spent together
In Accepting the Unexpected, I step away from writing about travel to comment on the bigger journey of life. While the topics may vary, the central theme is always the same: living life means learning to deal with the unexpected.
---
It all started with my desire to see Hamilton.
My husband Jeff made the argument that it would be easier and potentially cheaper if we just got season tickets to Broadway Across America in the cheap seats at the Hobby Center in downtown Houston. The upcoming season had a few other shows that we would enjoy seeing, and so we made a commitment to see around six shows over the course of a year, one of them being Hamilton. And with the exception of Love Never Dies (what were you thinking, Andrew Lloyd Webber???), we enjoyed every one.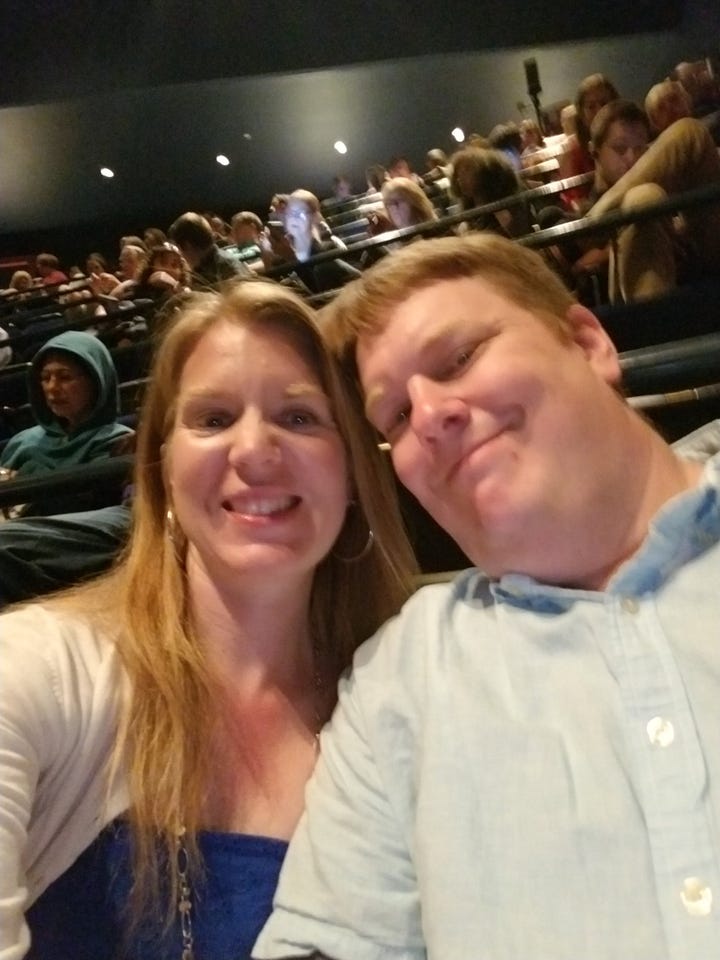 We renewed the tickets for the next year when I saw that three of my 90's favorites (Miss Saigon, Les Miserables, and RENT) were coming to Houston. Date night became a very regular thing. While we had sporadically enjoyed college and professional sporting and theatrical events over the years, this was the first time that we had fully committed to regularly scheduled evenings without the kids. In the two years before COVID shut everything down, we made a habit of getting a babysitter so that we could spent a designated evening together doing something we loved.
And it wasn't just about having a scheduled date night; we were doing something that we enjoyed and having fun together. We explored a few downtown restaurants and saw new shows. Then we decided it was time to start attending concerts and before we knew it, we were purchasing tickets to see the likes of Dave Matthews (a dream since we started dating), Brad Paisley, Hootie and the Blowfish, and the Barenaked Ladies. After surviving the toddler years, when we lacked funds, energy, and imagination to find ways to enjoy each other's company, we rediscovered how much fun we could have together. Sure, it was sometimes romantic, but we weren't trying to woo each other with the guaranteed end game of getting tangled up in the sheets; we were spending time just being us and rediscovering why we fell in love in the first place.1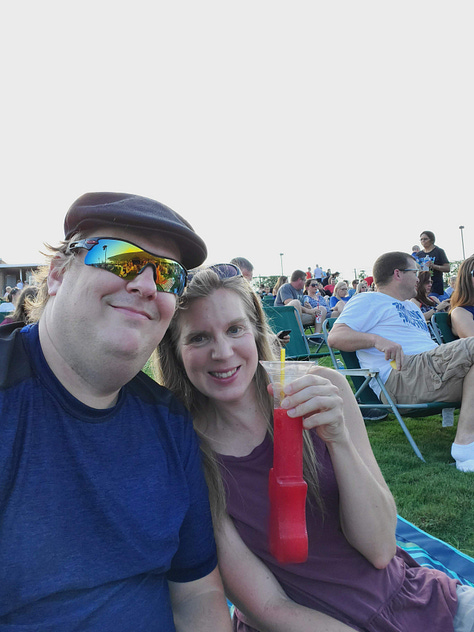 Before my husband and I got married, my aunt—who by that time had been married to my uncle for over ten years—told me that I would always love my husband, but I might not always like him.2 An idealistic 22-year-old who could not imagine this being the case in a healthy marriage, I filed away the information but promised myself that I wouldn't need it.
It didn't take me long into our marriage to discover that she was right. Of course, anyone who has had an honest dating relationship could understand what my aunt meant at the time. After all, I had had those moments when we were dating. We're human beings. We drive each other crazy. We have quirks and habits that never seem to go away, no matter how much we try. No amount of time or counseling or chemistry is going to change that.
So many married couples, us included, say that we married our best friend. That's not to say that we don't have other people who we trust and are deeply connected to, but it's become a modern trope to discuss the importance of having a partner who is your friend as well as your lover. But if referring to your spouse as your best friend only refers to the intimate connection you have and does not include the joy that best friends find in each other, then are you really best friends? Finding something in common that you both enjoy helps to consistently renew that friendship and bring joy in even the darkest of times.3
And it doesn't have to cost anything.
When I lost my job almost three years ago, it didn't just send me into a spiral, it also challenged our marriage in ways that we had never experienced, even during years of infertility and then years of financial instability with two babies two years apart. I shut down. I had so many feelings and no idea how to express them. And I was shutting out the person who was hurting almost as much as me.
Jeff eventually told me he was taking a day off and I needed to decide what we were going to do. We could use the time that the kids were at school doing anything I wanted. And I wanted to go hiking. I needed to get out into nature and take back a piece of myself from the universe. We went to Brazos Bend State Park in southwest Houston, hiking the trails and taking pictures of turtles, birds, and uncomfortably close alligators. The trails helped me find steady ground and we returned home temporarily renewed, the healing process just beginning. And yes, we were doing something that was fun for both of us, and all it cost was gas to drive south.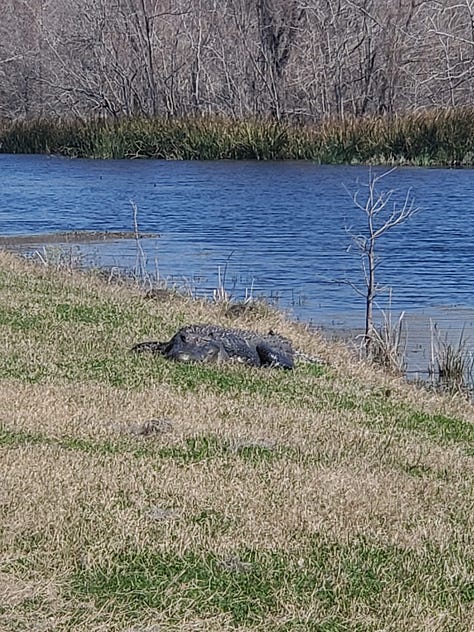 Since moving back to Indianapolis, Jeff and I have spent a lot of time focusing on finding fun with each other. Our kids are old enough that we can occasionally leave them while we're camping to take hikes and bike rides with just the two of us. We've gone to concerts and keep commenting on how much we wasted our childless twenties by not enjoying more live music the last time we lived in Indy. Jeff talked me into getting the AMC A-list so that we could see at least one movie a month and it has been worth it to just have a quick date night when there's a movie that we're even remotely interested in. (And yes, it does help that we have kids who are old enough to be left alone for awhile.) In our time healing from heartbreak, we're working together to enjoy our forties as much as possible.
There are many "secrets" to long and healthy marriages. No one secret works for every couple. It takes a combination of approaches to make a marriage work. Committing to spend a lifetime with another human being who is just as flawed as we are, isn't for the faint of heart. We've discovered that one of the fixes for this is making time to have fun together. Not every date or outing has to be about dressing up and being romantic. We don't have to always be focused on passion. But we do need time together to just be us.
And after almost twenty-two years, we're still figuring out what that means.
---
I also enjoyed this piece by
which challenges the idea that marriage has to be hard.
Order my new book!
I've written a memoir collection of essays based on several of my blog posts from the past seven years. It is available for purchase on Amazon.com.
And if you do purchase, please give it a favorable review on Amazon and Goodreads, or any other book tracking app that you might use.
---
Please "like" by clicking on the ❤ and share this post with your friends so that others can join me on the journey.
On the Journey is a reader-supported publication. To never miss a post and support my work, consider becoming a free or paid subscriber.
1
Extracurricular activities when we got home were a bonus.
2
For the record, they have now been married almost thirty-five years and have a model marriage that I have always admired.
3
That's not to say that you have to be interested in all of the same things. You need to have interests that are your own. But I also believe that you should enjoy that quality time together.