Discover more from On the Journey
Reflections on middle age, family, faith, citizenship, and travel
Around the World in Eight Hours
Our day at Epcot, our least favorite of the Disney parks
In Mission: Wanderlust, I write and podcast about our family's travel adventures and the things that we have learned along the way.
---
Our first ever trip to Epcot was a certifiable disaster.
Our kids were six and eight and we were sucking every minute we could out of every day in the Disney parks. Our kids were troopers into the late night hours but dragging to get out of bed each morning. By the time we fed them, took the ferry to Magic Kingdom and then the Monorail to Epcot, we were nearing lunchtime and the edge of hangry for our son.
We spent the first two hours in the park walking past one delicious looking restaurant after another, our daughter and I longing for some Mexican or Chinese food, and straight to the back of the park where we could have plain old American mac and cheese and burgers, all because our six-year-old wouldn't be satisfied with anything but that and we all needed the attitude change that would come as soon as he was fed.
It might be unfair, but he hasn't lived that down in the six years since.
We still enjoyed everything that we could out of our day at Epcot, but it was far from a successful trip, and while it was never destined to be our favorite park, none of us were satisfied with our original visit.
We were determined to do better this time around.
Instead of depending on the public transit, we chose to drive ourselves and take advantage of the free parking for staying in a Disney resort. Both kids continued their routine of getting up on time to get out of the door, although each morning it got harder and harder to do so. We got to the gates just as it opened for all guests and planned our day around our reserved time for the new Guardians of the Galaxy ride. Jeff had jumped into the virtual queue right as it opened so we knew that we had until early afternoon to explore. We decided to go around the park's large circle, starting with the outdated Spaceship Earth in a slow climb into the globe and back into history, ending with the work of Steve Jobs over forty years ago.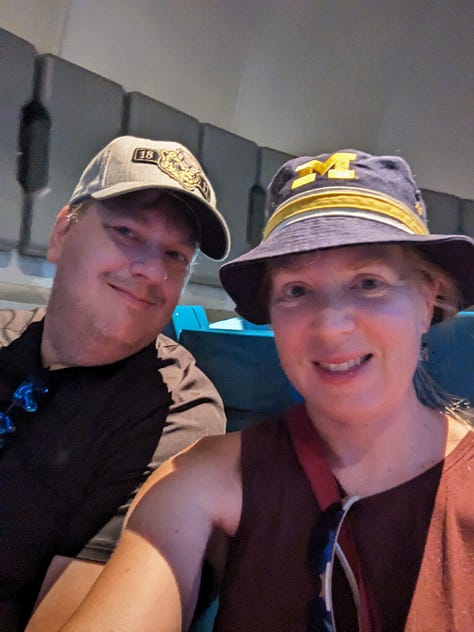 From there we walked to The Seas with Nemo and Friends and enjoyed our ride through the world of Finding Nemo and then waited for the delightful animated show Turtle Talk with Crush. Using some Disney magic, this particular animated show gives the audience an animated Crush with real-time interaction. Then we walked around the aquarium before heading back out into the heat, skipped past Living with the Land and Soarin' Around the World, and toward Journey into Imagination with Figment.1 This ride takes visitors past different imaginative skills based on the senses with a hands-on workshop at the very end of the ride. Once we were on it, we all remembered that we had also done it the last time we were at Epcot.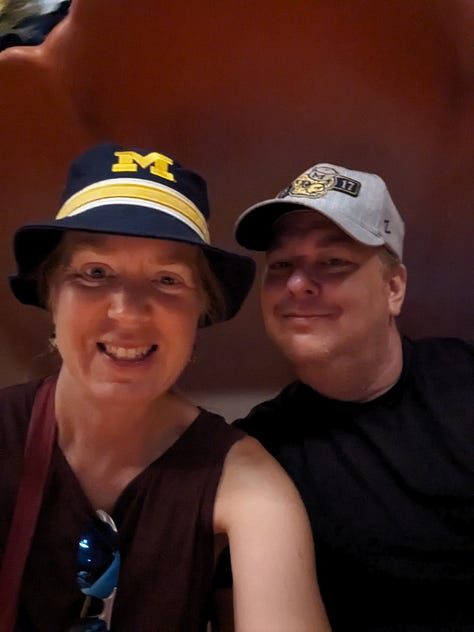 Then we started our trek around the world, stopping first at "Canada Far and Wide in Circle Vision 360" and then the shops in the United Kingdom before settling into France and getting into line for Remy's Ratatouille Aventure, another trackless 4D ride that took us in rat-shaped cars around Remy's kitchen. It was fun and surreal; there were times we didn't know if we were moving or if we just thought we were moving. We were splashed with water from a mop, traveled through a huge refrigerator that overpowered us as if we were rat-sized, and smelled the delicious scents of the kitchen. It was more fun than we could have possibly imagined.
Because we were determined to do better about food this time, we were agonizing over where we wanted to eat and trying to keep the price at least somewhat reasonable. While we were in line for Remy's ride, Jeff finally found a blog that suggested Les Halles Boulangerie and Patisserie, a French bakery with delicious sandwiches, deserts, and beverages. None of us were disappointed and I thoroughly enjoyed my Frose, a frozen wine drink with peach and vodka. Bonus? It didn't break the bank, which is easy to do in Epcot.
Then it was time to head back to the front of the park so that we could ride Guardians of the Galaxy: Cosmic Rewind. Disney is trying a virtual queue system for both TRON and Guardians, and we got the four of us in with enough time to guarantee a ride. I had finally decided to ride TRON at Magic Kingdom because I read that Guardians was more intense and there was no way that I would be able to do Guardians if I didn't do TRON. Jeff is prone to circle induced motion sickness, as it our daughter. Three of the four of us were taking a chance with this ride, but the line displays were too incredible to pass up and helped to distract us from what lay ahead.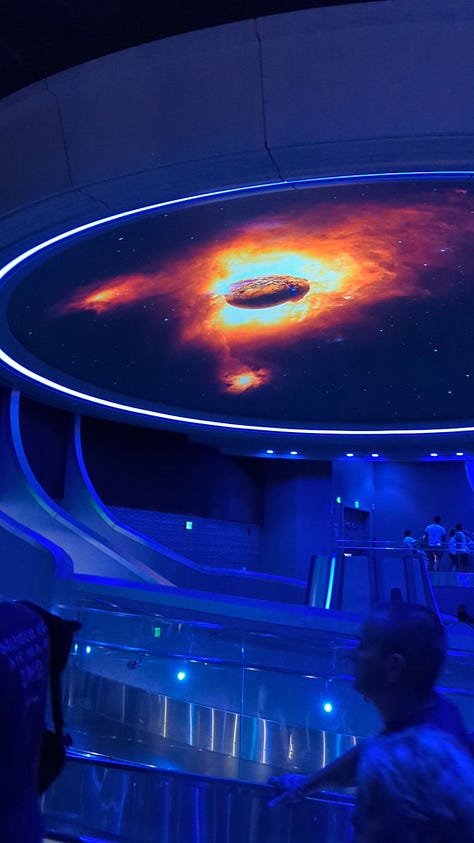 Final assessment? It's definitely intense. It's smooth but with sharp turns and drops, incredible graphics all around, and a car that also swings while you are going through the sharp turns and drops. Our thrill-seeking son loved it. The rest of us were able to say that we were glad we did it, but we didn't ever need to do it again. Thankfully, due to the queue system, we wouldn't have to.
To wrap up our day, we slowed things down with a ride on the Gran Fiesta Tour Starring The Three Caballeros, an indoor boat ride through scenes from Mexico. Then we headed to Norway where we got a massive chocolate chip cookie at Kringla Bakeri Og Kafe and then stood in line for an hour to ride Frozen Ever After.2 Then it was back through Germany so that we could get Werther's coated caramel corn and a snickerdoodle sandwich, and France so that our son could get the tart that he had been craving ever since we had eaten lunch. We were just in time for the Beauty and the Beast Sing Along and decided to give that a chance before we headed out of the park. After a final stop in Great Britain so our daughter could buy the Mary Poppin's skirt she had been lusting after, we were ready to head back to the campground for some much-needed relaxation.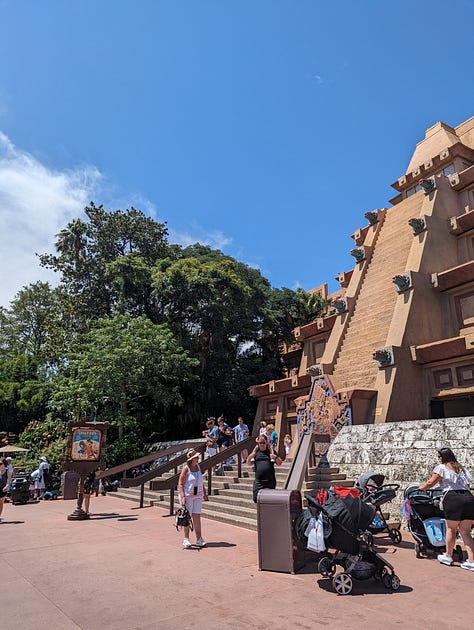 We enjoyed our day at Epcot much more than we had six years earlier. And even though we didn't have time to go to Animal Kingdom with our three days of park hopper tickets, we still feel like it's our least favorite park, but with a lot of potential.3 Even with the additions since the last time we were there, it needs a lot of love, but we know there are changes coming because there is construction happening behind walls. While we won't be returning anytime soon, I'm excited for future visitors to have an even better experience visiting Epcot.
After a night watching the fireworks at Magic Kingdom, we were done with the Disney parks. It was time to head to Universal.
To see the Instagram Reel from our day, go here.
Want to try out paid subscriptions for free?
Refer my Substack to some friends you think might appreciate my work. Get one month for three referrals, three months for eight referrals, and six months for fifteen referrals. You can get referral credit for everything from emailing a post to friends, posting it on your favorite social media, or restacking the post on the Substack app. Once a friend signs up for my Substack, you get referral credit!
Order my new book!
I've written a memoir collection of essays based on several of my blog posts from the past seven years. A couple of the above essays can be found in this very book. It is available for purchase on Amazon.com.
And if you do purchase, please give it a favorable review on Amazon and Goodreads, or any other book tracking app that you might use.
---
Please "like" by clicking on the ❤ and share this post with your friends so that others can join me on the journey.
On the Journey is a reader-supported publication. To never miss a post and support my work, consider becoming a free or paid subscriber.
1
We did both on our previous visit and figured that if we had time, we could return. While I enjoy both, I was ok with the fact that we didn't do either by the time that we left.
2
More on this in a later post about the parks in general, as I look at the good, the bad, and the ugly. Spoiler alert: the current FastPass system is on my Ugly list.
3
Animal Kingdom closes at 7:00 pm most nights, so our window to park hop was small.