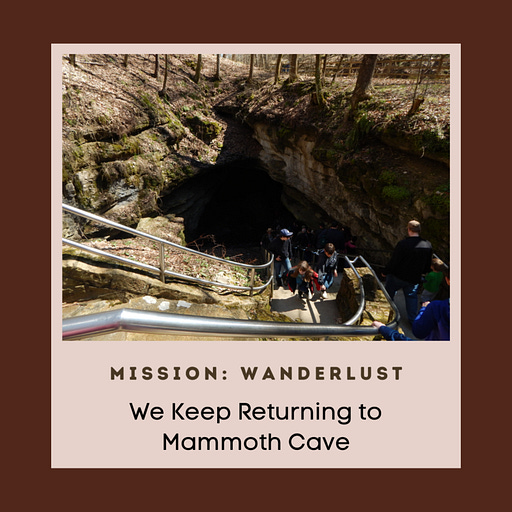 Mar 7, 2022 • 10M
We Keep Returning to Mammoth Cave
It has become one of our favorite National Parks
A podcast about camping, travel, and connecting with family and self.
Our first trip to Mammoth Cave National Park was when we were in our mid-20s and childless. Since that first trip, we have returned four times, each new trip an adventure that we are now sharing with our children.
One of my most popular blog posts is about the spring break trip that we took there several years ago, but we have returned since. I cover it all in this episode. Go to the hyperlink to read the post or read the full transcript below.
Music by Craig Harmann
---
Please "like" by clicking on the ❤ and share this post with your friends so that others can also join the journey.
---
Blog post
We discovered Mammoth Cave National Park in 2006 during our first spring break living in Indianapolis.
We had actually been interested in Mammoth Cave since we had planned our honeymoon to Tennessee several years earlier. We were looking for things to do while we were in the Smoky Mountains and one of the things that came up on a search of things to do in Kentucky and Tennessee was Mammoth Cave. We quickly learned that the two national parks were nowhere near each other and scrapped the idea of heading there altogether.
But now a quick trip to Kentucky was only about three hours from central Indiana, the pictures of the region looked beautiful, and we were ready to do some cave exploring. So we packed up our camping gear, our Siberian Husky, and headed down south. We made reservations at the national park lodge for our first night and got a spot for our dog in the kennel that is located right across the parking lot from the lodge.
The next day we pitched our tent in the National Park campground, perfectly content with our electric-free campsite, and set out to explore the national park. Mammoth Cave National Park encompasses the world's longest known cave system, with over 400 explored miles. People have been exploring and taking the public on tours through the cave for over 200 years, and it became a national park in 1941. During the two full days we were there we took a couple of different tours, enjoyed the peaceful quiet of our off-the-grid campsite in the national park, and planned for which tours we would want to take the next time we came to visit, and we did return for another visit when it was still just the two of us. The following year we returned for a nearly identical spring break trip. The truth was, it gave us a quick getaway for part of our spring break and forced me to take a mini-vacation while I was in the midst of production for the spring musical.
While we always said we wanted to return to the national park once we had kids, when we quit camping after our daughter was born, it just didn't seem like the ideal trip anymore. Besides, we wanted to see different places and the timing just never seemed right for a return. For the next couple of years, if we did take a spring break trip to escape the remnants of winter, we headed much further south to guarantee warmer temperatures and sunshine. But as with most things in our lives, buying our second camper lead to a complete shift in the way we viewed vacations, and this was true of our last spring break up north before we moved to Texas.
While we didn't know for certain that the spring of 2015 was our last spring up north, we could see the writing on the wall. In the time since we had purchased our new camper, we still had not made the trek back to Mammoth Cave National Park, this time with our kids. We had intended to take our kids down to one of our favorite National Parks for a long time, but something told us that it was now or never, and so we packed up for an early spring adventure six hours south of home from where we were now living, Fort Wayne.
Because our goal is to visit as many new places as possible, it is frequently difficult to pick favorite trips and locations, even though we do have them. But the fact that we returned to Mammoth Cave National Park twice in our childless years (and now twice in our parenting years) is a pretty clear indicator that we have deep appreciation for both the national park and the surrounding area. We were also absolutely certain that our kids would love their experience in the park as much as we had on our previous two visits.
After an unseasonably cold night at the KOA, we made our first stop at the sign leading into the park so we could get a picture with our kids, commemorating their first trip to Mammoth Cave. At that particular parking spot, there is also a short hiking trail to Sand Cave, part of the elaborate cave network in the region but still set apart from the main national park. We took pictures at the welcome sign and then hiked down to the cave, reading the signs as we went.
It had been years since my husband Jeff and I had been to the park, so there was a lot about the park trails that we didn't remember. And with this particular trail, we had either skipped it altogether on our previous two trips or we had blocked it from our memory. The kids asked what the cave was and I started reading the long story about Floyd Collins, the entrepreneur who spelunked his way into Sand Cave and got himself stuck after his foot dislodged a 27-pound rock that trapped his ankle. Before I completely registered that I was reading a story about the untimely demise of an early Mammoth Cave explorer, I had already informed my children that the man named Floyd Collins had died in the cave nearly 90 years before our trip to the national park. Our children were enthralled by the story. Our three-year-old son spent the next two days asking every park ranger who would stop to listen if they would comment on the fate of Floyd Collins, and most of the park rangers, trained to talk about the cave system and not the history of a man who died exploring a different cave, didn't know how to respond to our inquisitive little boy.
Lesson learned? Perhaps read signs for ourselves before reading them to our children.
Naturally, our first stop after the Floyd Collins debacle was the visitors center, which was completely new to us. I remembered that when we had last visited, there had been signs all over showing the vision for what the center would be and it appeared that the dream had been fulfilled. The four of us walked around, the kids trying to decipher the visuals while we read as quickly as possible before they ran off to the next display to push more buttons. While Jeff and I were eager to get on the first tour, we gave both kids the time that they needed to learn and explore before we headed underground.
We started our exploration of the national park on the Historic Tour, a two-mile walk through the traditional historic spots on the tour. Our daughter made friends with another little girl on the tour and it took everything to keep her with us so we didn't lose her to an unexplored passage in one of the largest cave systems in the world. The two-mile hike through the cave explores multiple formations, a huge, naturally created open room near the entrance of the cave, passages both narrow and wide, and the spot where one particularly creative minister led his congregation for weekly Sunday services. Our kids took everything in, discovering the beauty that exists below the surface as well as above it.
The next day we took the Domes and Dripstones Tour in another section of the park away from the visitor's center. The tour required a bus tour and took us down 500 narrow, steep stairs and three-quarters of a mile of passageways, past domes and pits that demonstrated the awesome formations throughout the cave system.
While we didn't do a lot of walking, it was a lot of climbing for our three and five-year-old, and they welcomed a picnic lunch in the sunshine once we were back on the surface. After two days of cave hiking and climbing and exploring, our exhausted kids gladly agreed to an afternoon of traveling in the truck as we headed to Abraham Lincoln's Birthplace so all of us could get another National Parks Passport stamp. We had gotten both of the kids their own passport books on a previous trip to the Smoky Mountains and they had already learned the excitement of filling up their own books with new places and experiences.
We arrived at Lincoln's Birthplace an hour before close. We hesitated to get copies of the Junior Ranger booklets for both kids, especially since we didn't have much time, but we picked them up anyway, viewed the memorial with a replica of Abraham Lincoln's cabin when he was a little boy, and stretched our legs around the grounds. We had also decided to take our new puppy with us on the excursion so that she could be with the family and stretch her legs around the grounds, especially since we discovered that keeping her penned up in the camper was not going to work as well as we had hoped, especially since she had broken out of the nylon crate we had purchased specifically for the trip, twice.
The kids finished their Junior Ranger tasks just in time to get sworn in as Junior Rangers at Abraham Lincoln's Birthplace and then we headed back towards our campsite. We wrapped up our trip to Mammoth enjoying the activities at the campground. We made dinner, Jeff broke out the fishing poles and took the kids fishing at the campground's fishing pond, I walked Bella around the campground as many times as she would let me while the rest of the family fished, and we made the perfect s'more making campfire.
After a long winter, we needed to be reminded why we loved being outside and we needed to do it together. Both kids returned with a new love for caves and our son, with as much articulation as a nearly four-year-old boy could muster, tried to explain the fate of Floyd Collins to his pre-school teacher, prompting to her ask us what exactly he was talking about. 
Then last summer, as I was making plans for our summer vacation, which would include a return to Kentucky, I asked the kids if they wanted to return to Mammoth Cave. It was one of the only things they could agree on. They wanted to return to a place that held vaguely good memories for them.
Due to covid restrictions, it wasn't the full tour that we were hoping for, especially since tour space was limited, but now that we live back in Indianapolis, we plan to take our now pre-teen children back so that they can continue to freely explore the park that has been a surprisingly significant part of our travel lives.
---
Please "like" by clicking on the ❤ and share this post with your friends so that others can also join the journey.
On the Journey is a reader-supported publication. To never miss a post and support my work, consider becoming a free or paid subscriber.