Spring Break at Cane Creek State Park
We go to Arkansas for a few days of rest and recreation
In Mission: Wanderlust, I write and podcast about our family's travel adventures and the things that we have learned along the way.
---
While we were not initially impressed with the state of Arkansas the first couple of times we drove through the state on our way to and from Texas as we traveled home to Michigan and Indiana, over the last couple years we have made more scenic stops that have helped us to better appreciate all that the state has to offer lovers of the outdoors.
When my parents said they wanted to meet for spring break at some point, I offered Arkansas as a solution; we could head east from Texas and they could drive south from Michigan.
And so we searched for a state park where we could play and spend quality time together as a family.
We settled on Cane Creek, south of Little Rock and nestled in the southeast region of the state. It was a long one-day drive for us with a camper in tow, especially since most of that travel was going to be on state and county roads, so we were happy that we had cut the first leg of our trip nearly in half by stopping at Martin Creek Lake.
Since we didn't have as long of a drive there, we pulled into our spot before the park office was closed and long before the sunset, allowing our kids to explore the small campground while we unpacked for the four nights that we would be there.
Then we settled in for the night so we could await my parents' arrival and look forward to a full day of exploring once the sun was up.
---
Day one
After a celebratory camping breakfast of bacon, eggs, and sausage, the kids and I headed out on the path leading down to the lakefront where we would later launch our kayaks. The park has recently upgraded the paths leading down to the lakefront from the camping loop, as evidenced by the fresh concrete, attractive retention walls, and upgraded bridge rails. The boat launch has a concrete slope into the water, a pier, and a small sandy beach which kept calling to our children, begging them to jump in.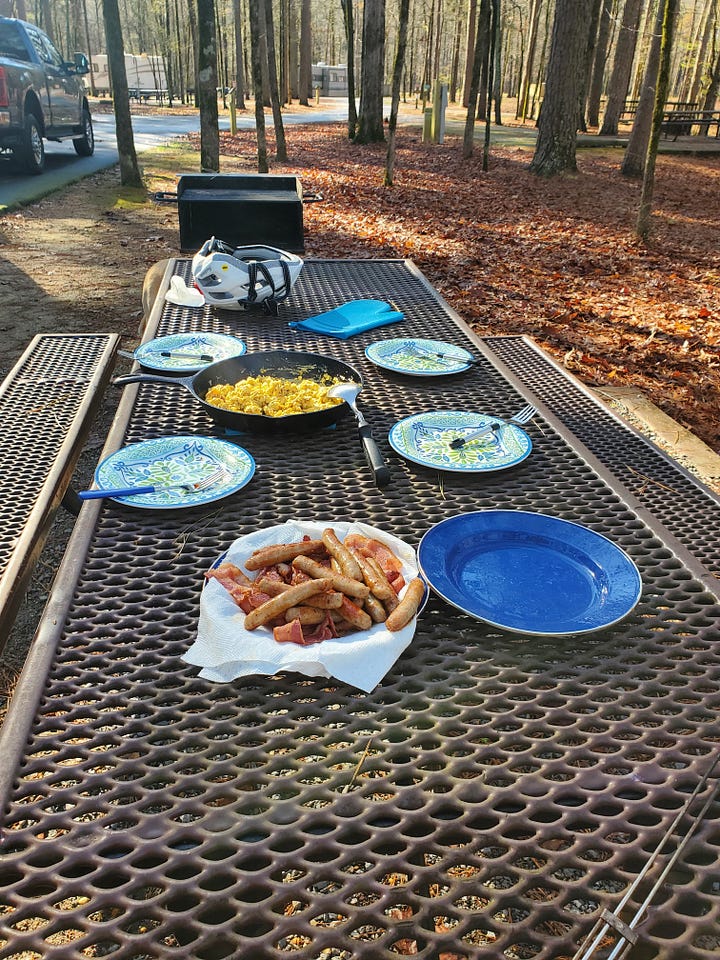 After the kids and I returned to our site, my husband Jeff, now finished with the one virtual meeting he would have to do all week, helped me clean up while our kids road their bikes over to the playground. Since we had done the ride together as a family the night before, we decided that they would be pretty safe doing it alone, especially since the small park was only half occupied. By the time we got to them, they had tricks to show us, even though they were really almost too big to enjoy the playground equipment.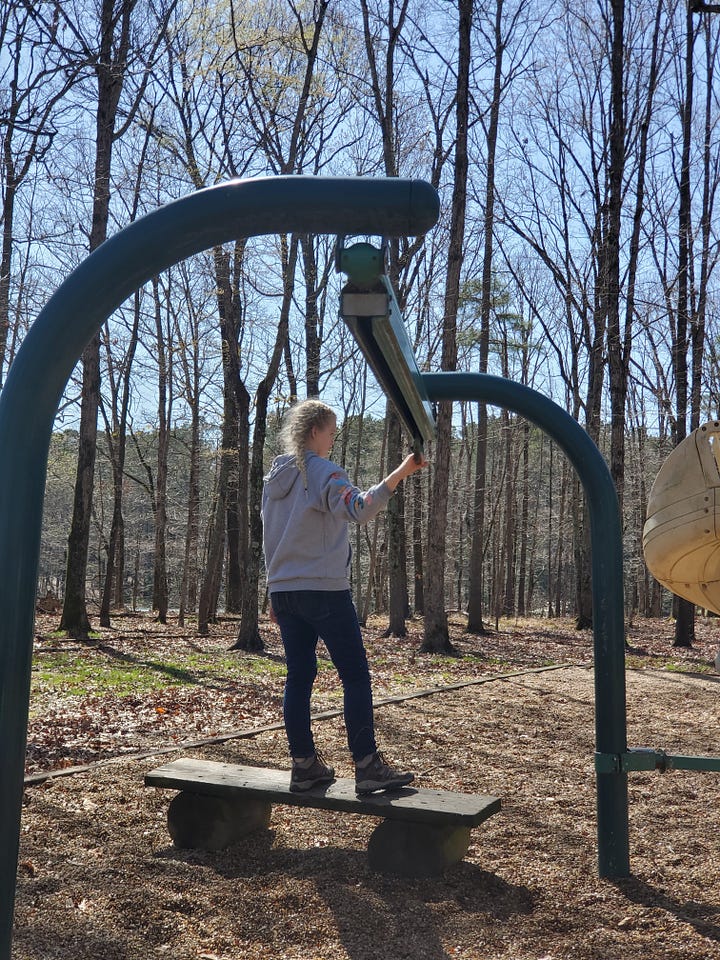 Once my parents arrived, Jeff and I convinced my dad to head out with us on the 2.5 mile Delta View Trail. The trail is part of the much longer Cane Creek Lake Trail, a 15.5 mile mountain biking and hiking trail (for those willing to hike for an entire day). While it was muddy in spots, the creeks and ravines and views of the lake well made up for it. Spring emerged on the trees above us while fall leaves and pine needles still blanketed much of the trail that hadn't yet seen the emergence of spring and summer outdoor enthusiasts.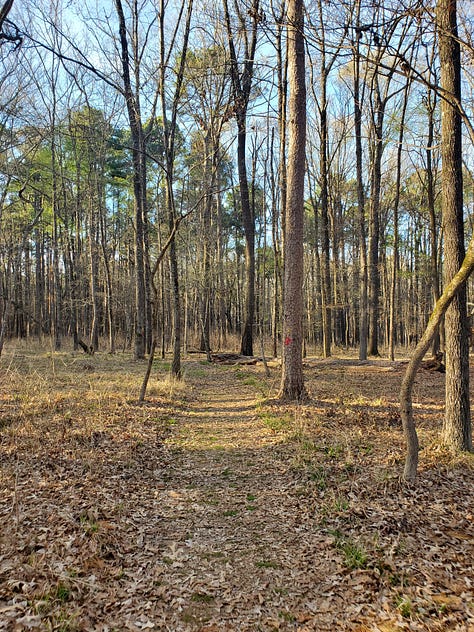 We made it back in time to make fajitas for dinner and start making plans for another full day of park explorations.
---
Day two
After breakfast, Jeff, the kids, and I headed out on the mountain biking trail to give it a try. I love biking. My road bike is one of my prized possessions. Jeff and I once took a trip without the kids to Gettysburg and we biked the entire battlefields loop. I try to get out as much as possible when I need a break from running.
But road biking is not the same as mountain biking.
My loving husband is more a fan of the twists, turns, and challenge that mountain biking presents. While I avoid danger, he rides towards it.
But marriage is about compromise, so I finally decided that it was time for me to have a gravel friendly bike for camping, and that meant buying a mountain bike.
And now I needed to see if I could actually do it.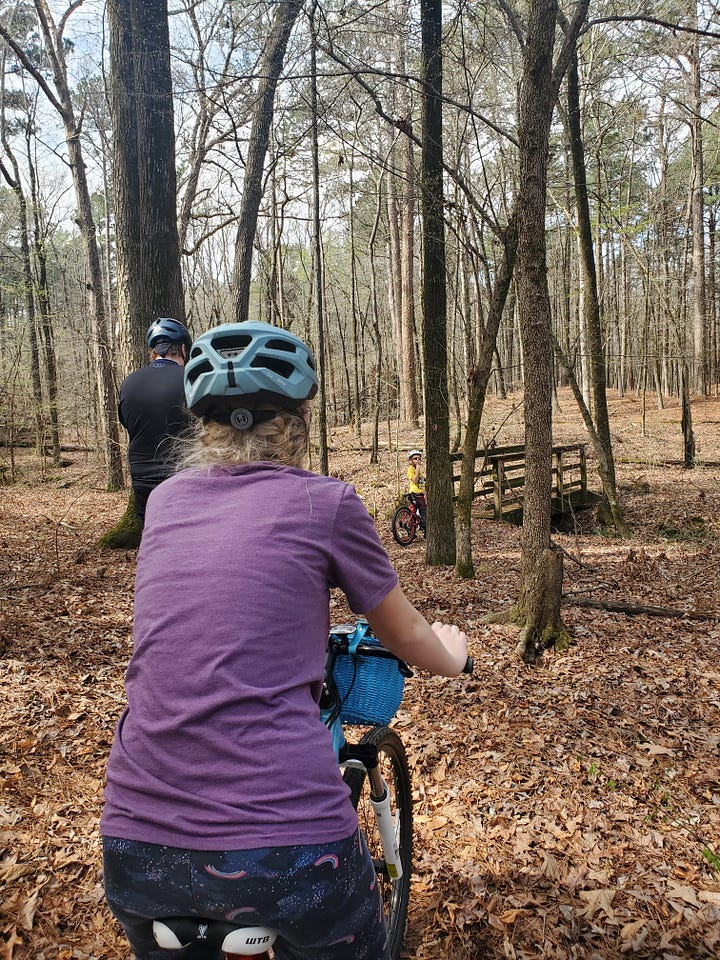 We didn't get very far. The entire trail is 15.5 miles. We went less than three. And we didn't find any of the three suspension bridges that grace all of the brochures for the state park. Mountain biking is a much more challenging workout than it initially looks, and after riding over roots, through mud, and over deep piles of dried leaves and pine needles, our daughter and I were ready to quit early. Jeff and our son went a little further, but they returned to the camper not long after we settled back in at "home."
It wasn't a rousing success, but at least we all tried.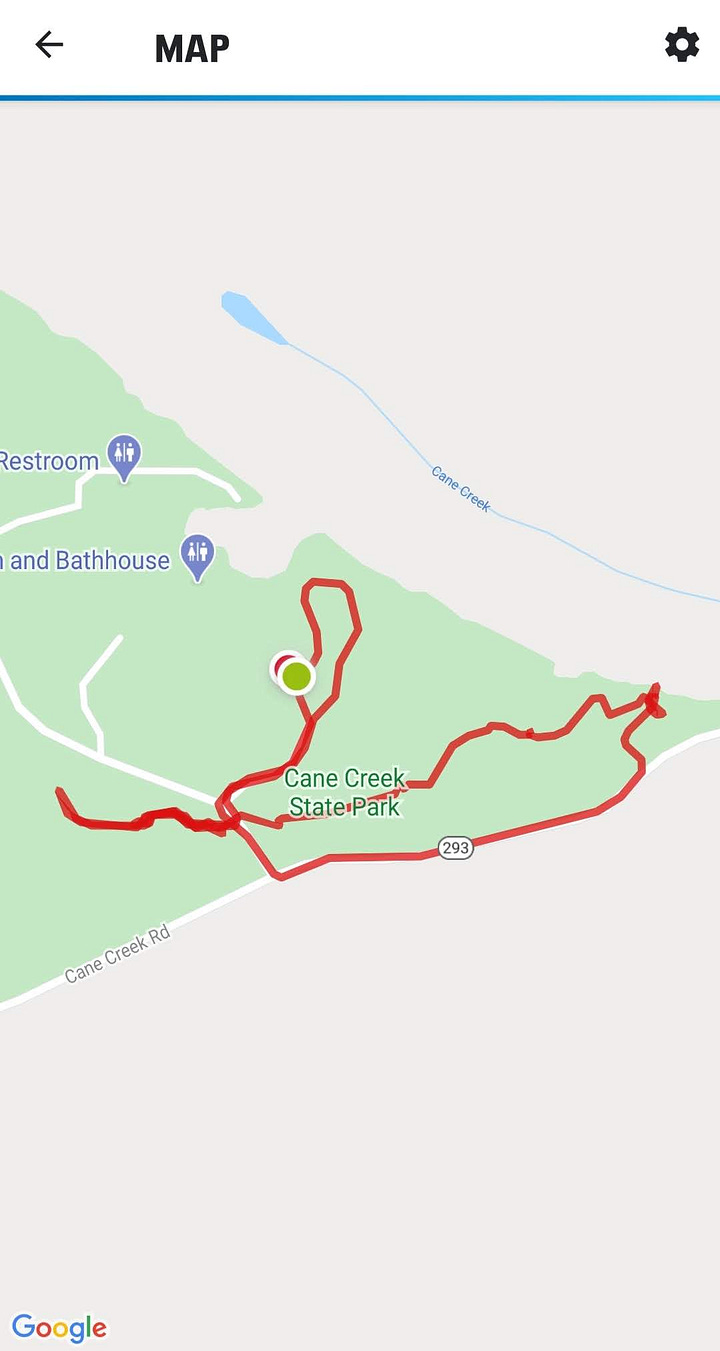 After lunch we headed out on the lake to go kayaking with my parents. We purchased two inflatable kayaks before our Campsgiving trip to Lake Mineral Wells. Jeff decided that, as nice as they were, he wanted a better one for the two of us and then we would have a spare for "company," not that we frequently have additional company.
But this time, we did.
The kids went with grandparents and we got a pseudo-date, enjoying time by ourselves in our new inflatable even as we were still surrounded by kids and parents. Everyone successfully maneuvered around the shoreline, into an inlet, and around the dead trees sticking up out of the water before heading back to shore.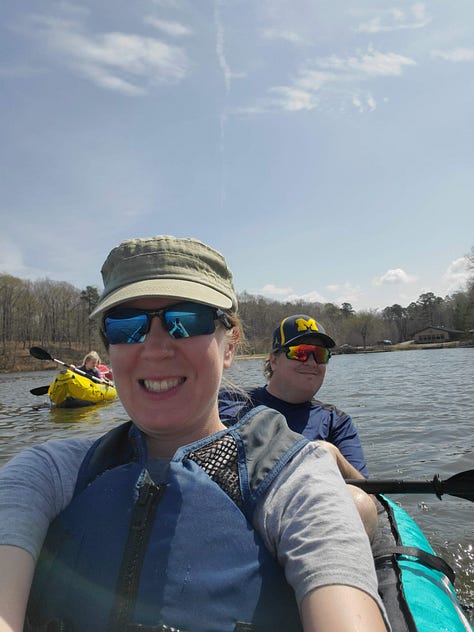 The 45 minutes on the water wasn't enough. The kids played in the water while Jeff and I sat on the dock, enjoying the surprise warm sunshine and drying off while we watched our children play nicely together. It honestly didn't matter to us that they were rolling around in the water and sand, fully clothed. We were thrilled that they were having fun together and were far away from any kind of electronic devices, while Jeff and I put our phones aside (after taking pictures of the mess on the shore) and just enjoyed some quite time talking at the end of the dock.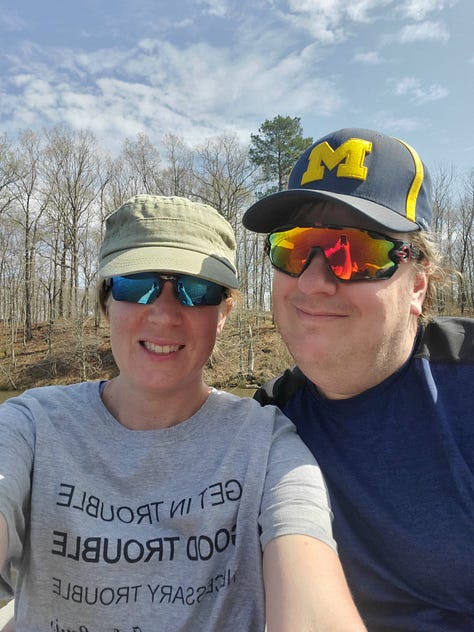 ---
Day three
We woke up after a night cut short by heavy thunderstorms that woke up the whole family at 4 AM. The clerk at the front desk in the visitor center had warned us about incoming severe weather, but we were unclear about when the weather would hit. The storms that swept through the southeast and caused significant destruction hit us with two hours of constant rolling thunder, nearly three inches of rain, small balls of hail, and freaked out our dogs so badly that one of them tried to hide under my pillows.
She was promptly kicked out of our bed.
By the time we woke up again several hours later, the overcast skies promised the potential for more rain, but most of the danger had passed. The worst of the storms were going north and west of us, skirting around our location and opening up the opportunity for a little more exploration instead of an early return home.
So we headed to Arkansas Post.
When we returned from our four-hour excursion, it was time to get our St. Patrick's Day dinner of corned beef, sauerkraut, and potatoes ready for our last dinner of our trip.
While dinner cooked in our new Instant Pot (I finally caved and agreed that a multi-cooker might be helpful for longer travels), Jeff prepped the fishing rods so that he could take our son fishing for one last camping activity.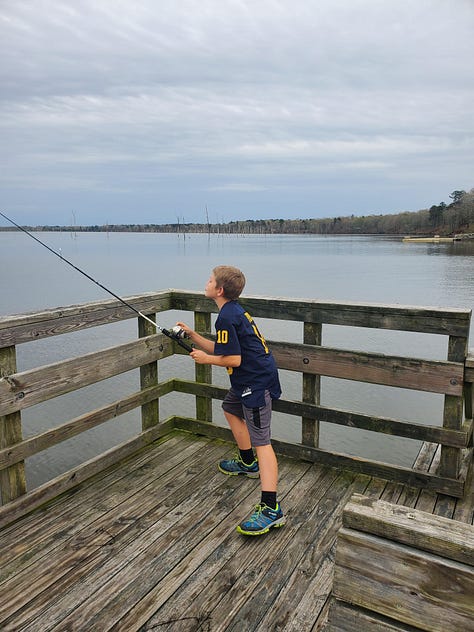 We had to give up a final night of a campfire since we 1) had wet firewood and 2) we had put all the camping chairs away the night before. But we enjoyed our dinner, cleaned up, and relaxed before finally heading to bed to prepare for a long trip home.
Cane Creek once again confirmed the value of camping at state parks. While we wouldn't drive the long haul from Texas for the sole purpose of camping there again, it was a good place to meet up with my parents and provided more experiences than we had originally anticipated.
It was another successful spring break camping trip.
---
Please "like" by clicking on the ❤ and share this post with your friends so that others can join me on the journey.
On the Journey is a reader-supported publication. To never miss a post and support my work, consider becoming a free or paid subscriber.