Incomplete Trails and Ghost Towns
Day three of Campsmas 2019 in Big Bend National Park
In Mission: Wanderlust, I write and podcast about our family's travel adventures and the things that we have learned along the way.
---
For three of the six years that we lived in Texas, we celebrated Christmas break with a camping trip. As I go back through my old blog archives and move them to my Substack, I will be revising some of my older blog pieces that I wrote about these travels. Please enjoy my reflections on our third and final day in Big Bend National Park. The original post can be found here at Accepting the Unexpected Journey.
---
The danger of planning a family vacation during the week following Christmas is that we will inevitably all be together on Jeff and my wedding anniversary. For two years in a row, as we planned vacations to the Big Bend region, we've had to resign ourselves to the knowledge that a celebratory date night was going to have to wait until we got home.
And as a result, our kids have decided that it is their duty to make our day together as a family special. The year before they had started the milestone day with an attempt at breakfast for both of us. During our 2019 trip, they were determined to get up early to walk both of the dogs so that I didn't have to do it. The gesture was so sweet, but it ignored a couple important points. First, I actually enjoy my morning quiet time walking the dogs. Second, they were both waking up way too early for two kids who were clearly exhausted by constant activity in higher elevations.
Regardless, I was touched by the gesture, let them attempt the chore (one dog cooperated and the other didn't), and finished getting ready for our last trip into Big Bend National Park before we headed home. We had been warned the day before that if we wanted to go to Chisos Basin and be guaranteed parking, we needed to be in the region before 10:00 AM. Jeff and I spent the night before looking at the maps and determining which hike we wanted to try as a family. The last time we had been there we completed the 1.8-mile Basin Loop. While the distance was far from sizable, it is a trail with pretty significant changes in elevation and had been a challenge for our hungry children. This time we were going to try to take our 8 and 10-year-old on either the Lost Mine (over five miles) or the Window Trail (just around five miles). Yes, we were being ambitious.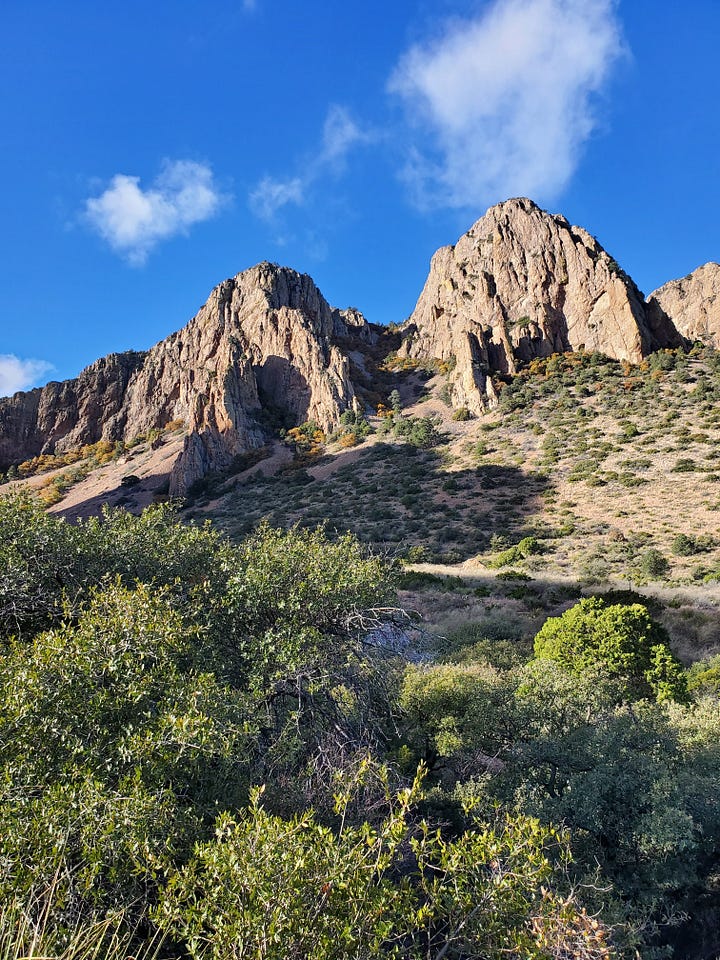 Unfortunately, by the time we got into the Chisos basin region, after 9:00 but well before 10:00 AM, the limited parking for the Lost Mine Trail was already taken. When we asked the ranger at the Chisos Basin visitor center, her skepticism at our ability to take a hike on the trail seeped through, telling us to come back the next day because we would need to be in the park by 7:00 AM if we wanted a parking spot for that hike. (Note to reader: Listen to the rangers. They are usually right.) Since this was our last day and that was not an option for us, we decided we would have to take the Window hike. If we started in the campground instead of at the visitor center, we could cut out nearly a mile roundtrip from the hike, so we first tried to find parking there and failed. (Again, note to reader: Chisos Basin appears to require a completely developed plan, so plan accordingly.) We headed back up the hill and managed to find a parking spot behind the lodge restaurant and gift shop and started towards the trailheads. We were going to attempt the five-mile hike dangerously close to lunchtime.
The Window Trail spends the first half of the five miles descending into the Basin to see the base of the Window and the second half climbing back up out of the Basin. Our son had already demonstrated that he was tired, but we fed them healthy snacks and then headed out in the 34-degree temperatures (the sun was deceptively warm) to hike all five miles.
The kids were troopers, but the cold fingers and tired bodies (not the mention that we were approaching their standard lunchtime) led to a near meltdown by kids and mom alike (mine fueled by the impending kid meltdown). After I had snapped at our son for dropping his hiking stick four times in quick succession, Jeff pulled me aside and reminded me that I was dealing with a tired and most likely hungry little boy (who has been a walking Snickers commercial since birth). I humbled myself to talk to him and ask him what he wanted to do. The hike was beautiful, but we were over a half a mile away from the end of the hike and then we would still have to climb out of the basin. He didn't want to ruin our anniversary and just wanted me to be happy.
Mommy Sarah took over for Adventurer Sarah. I assured him that he wasn't ruining our anniversary, and we turned around and back up the trail.
Good thing too, because we almost lost our daughter to hunger on the way back.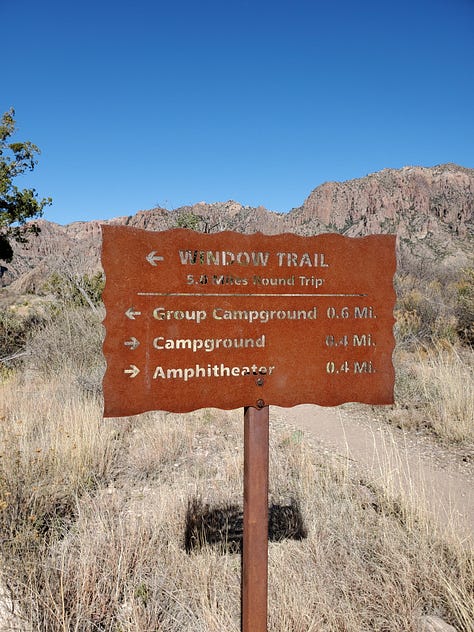 In the end, according to my Fitbit, we still completed about 3.4 miles of the five-mile hike (still a considerable achievement, and while I would love to say that my family had pushed along with me and we had actually finished the full five miles, trying it on our third day in the park might not have been the wisest of decisions. Still, we felt accomplished and we that had all earned an anniversary lunch at the Chisos Basin Lodge, a worthwhile stop for a family tired of eating sandwiches for lunch every day.
As we headed out of the park, we once again looked at the parking for the Lost Mines. It was still packed and there were even more people waiting for cars to leave. We had to give up any hope of even stepping on the trail and instead headed back towards Terlingua, our only regret being that we had not been one of the many lucky park visitors who had seen a black bear in the park during the week after Christmas. Jeff and I would just have to hold onto the memory of our near run-in with a family of black bears while we were hiking in the Smoky Mountains when our daughter was a baby; our kids would have to wait for another trip in another location to see their first black bears in the wild.
One year before we had stopped in Terlingua Ghost Town in a failed attempt to find some food. This time we were going to actually complete a tour of the ghost town. I picked up a copy of the tour guide from the souvenir shop and we walked the quick loop around the sights.
Terlingua Ghost Town is a good example of what happens to a town when a particular industry dries up. At the turn of the 20th century, Terlingua became home to about 2000 people, thanks to a thriving mercury mine. Workers from both sides of our southern border worked side-by-side to make the mine successful for several years before it finally dried up after World War II. In the 1970s, people slowly started repopulating the area, and while Terlingua is by most measures a "blink and you'll miss it" kind of town, local residents are trying to bring it back. The Ghost Town, which was the business center of the region in the first half of the 20th century, has now become an artist colony.
The local artists are trying to preserve the history of the town, putting together a self-guided tour to help visitors get a feel for what the town once was. We looked down a mine shaft, walked around the decrepit Perry School, stepped inside St. Agnes Church (which has undergone the most restoration of all the buildings in recent years and is actually in use), and temporarily locked the kids in the Terlingua Jail.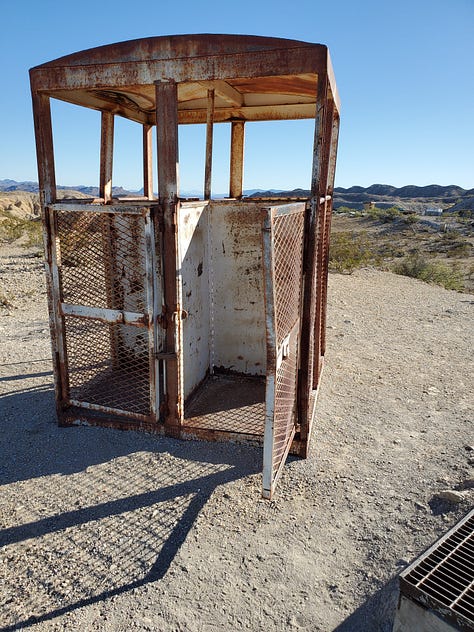 Then Jeff pulled out the GPS to see if he and the kids could find one of three geocaches in the area.
What started out as one geocache quickly turned into three geocaches, the last one taking us to Long Draw Pizza – a local pizza joint – where we eventually ordered some anniversary dinner to take back to the camper.
While the day hadn't been perfect and devoid of meltdowns, it was still a good day and end to our time in the Big Bend region. As I walked the dogs before settling in for the night, I took one last look at the night sky, making out the dim outline of the Milky Way in the near total darkness. I wasn't ready to leave because leaving meant a return to regular life, but I knew that it was time to pack up and head back east.
While we don't know when or if we'll return to Big Bend (after all, there are so many more national parks to visit), we're glad we spent extra time traveling to the far reaches of Texas to explore another beautiful, albeit remote, part of the country. This became especially true when we moved back to Indiana, far away from the Big Bend region.
And as much as I would love to go back someday, I don't think I would want to visit there in summer.
---
Please "like" by clicking on the ❤ and share this post with your friends so that others can join me on the journey.
On the Journey is a reader-supported publication. To never miss a post and support my work, consider becoming a free or paid subscriber.