Finding a New Weekend Escape at Lake Somerville State Park
Just close enough to justify a fall camping trip away from Houston
In Mission: Wanderlust, I write and podcast about our family's travel adventures and the things that we have learned along the way.
---
We just wanted a fall camping trip.
It started with an attempt to relive our 2019 pre-Halloween camping trip to Mother Neff State Park. We wanted to go someplace new so my husband spent more time than necessary and discovered Lake Somerville State Park, halfway between Houston and Austin. He booked it and we eagerly anticipated a camping weekend that was more than two months away.
Then we signed our son up for winter flag football. Then Jeff decided to coach the team. We watched our calendar fill up overnight and the weekend we had planned for much needed time away turned into a three-game athletic marathon for our little soccer player and footballer. If we were going to hope for a "fall" camping trip before Thanksgiving, we were going to have to change our strategy.
We had one weekend left with a single scheduled game. Our son could sacrifice that game so that the rest of the family could get away. But our plans to visit a new park were initially out of reach. Every single state park in Texas was booked for the weekend. We got on waiting lists and then Jeff constantly refreshed the openings every time he had a chance. We reserved at Goliad, but we had already been there. We changed that to Bastrop, but it is further away and again, we had already been there.
Finally, the right spot opened up at Lake Somerville State Park and we jumped on it.
The park is less than two hours from home, so we pulled into our camping loop with just enough daylight to work around the tree vine that threatened to attack the camper. Sometimes we pull in for our first night at a campsite and the tensions are still high, but our kids settled into a rhythm almost immediately. While Jeff and I worked on things outside and started a dinner of personal pizzas on naan bread, the kids pulled out Trivia Pursuit and started playing their own version of the game. For the rest of the night, we heard giggles that we hadn't heard for weeks coming from our kids while they played and we read our own books right next to them.
Despite our lazy start the next morning, we managed to finally get up and ride our bikes around both loops in the Yaupon Camping Area before heading to the Nails Creek Unit of the state park.
When I checked in at the park office Saturday morning, I discovered that we were really staying in one of two parks along Lake Somerville. While there was plenty to see and do in the Birch Creek Unit, we wanted to see what the Nails Creek Unit had to offer. We soon discovered that driving around the lake to get to the other side took much longer than anticipated. Over half an hour later, we were driving through the Nails Creek campground where we discovered equestrian sites (complete with pens for horses), a couple trails, a decent sized family fishing pond, and a large picnic area overlooking the lake.
We also decided that we had ended up camping on the right side of the lake, at least for us.
We headed back, ate lunch, and for the first time in weeks, relaxed. I couldn't hide in the office and work. We weren't running off to football or soccer games. The kids weren't buried in electronics. There was no college football to watch. In short, it was the first time in weeks that we had actually stopped to enjoy each other and our time.
With several trails to discover, we decided to take a trail along the lake. Our son begged us to bring the dogs, convinced that if we took them to water we could get them to go swimming.
We weren't so sure.
Bella, our slightly older dog, has had a fear of water since the moment she ran through the gate of our new home and fell right into the pool. When we brought JT home, she spent the next several weeks training him to avoid the are altogether.
Now they both hide in the house when any member of the family is enjoying the water, despite the fact that JT is most certainly a water dog.
It became a battle of wills, but we finally agreed that we could walk JT and leave Bella at the camper. We were convinced that one of us would be walking our excitable dog back to the camper in no time.
Instead, he followed the kids right into the lake, walking from shore, into the water, and then back to the shore again.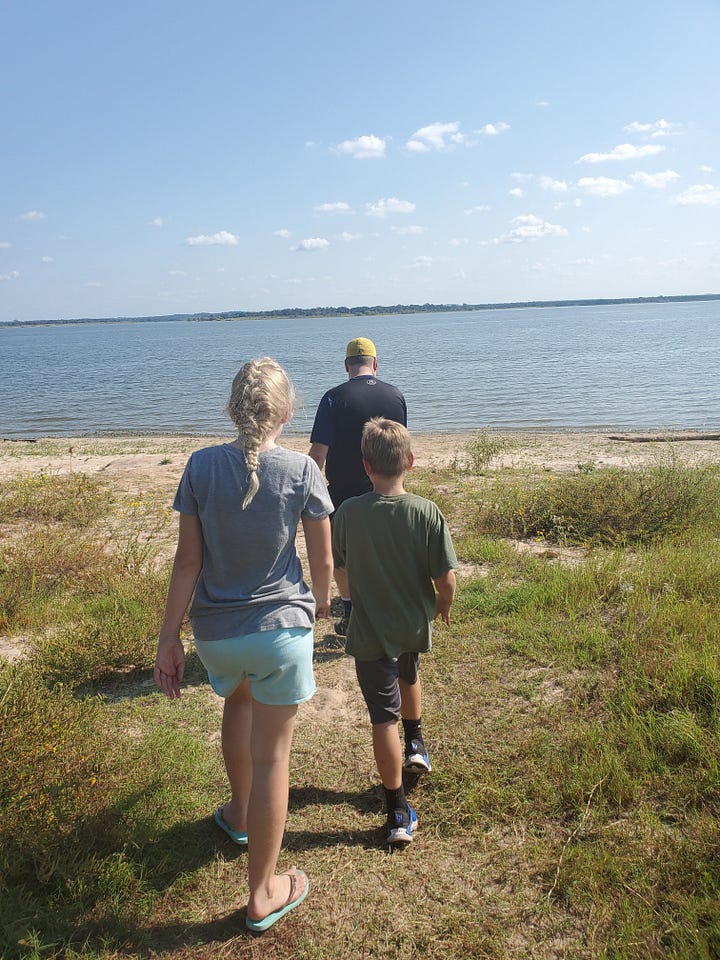 We had no idea that the lake would be so close to our campsite, nor that there would be a swimmable beach area, so we didn't even think to bring our swimming gear. But with the October Texas temperatures climbing into the low 90s, our kids decided it didn't matter. They spent the next hour swimming in their shorts and t-shirts while Jeff and I enjoyed the view from the shore.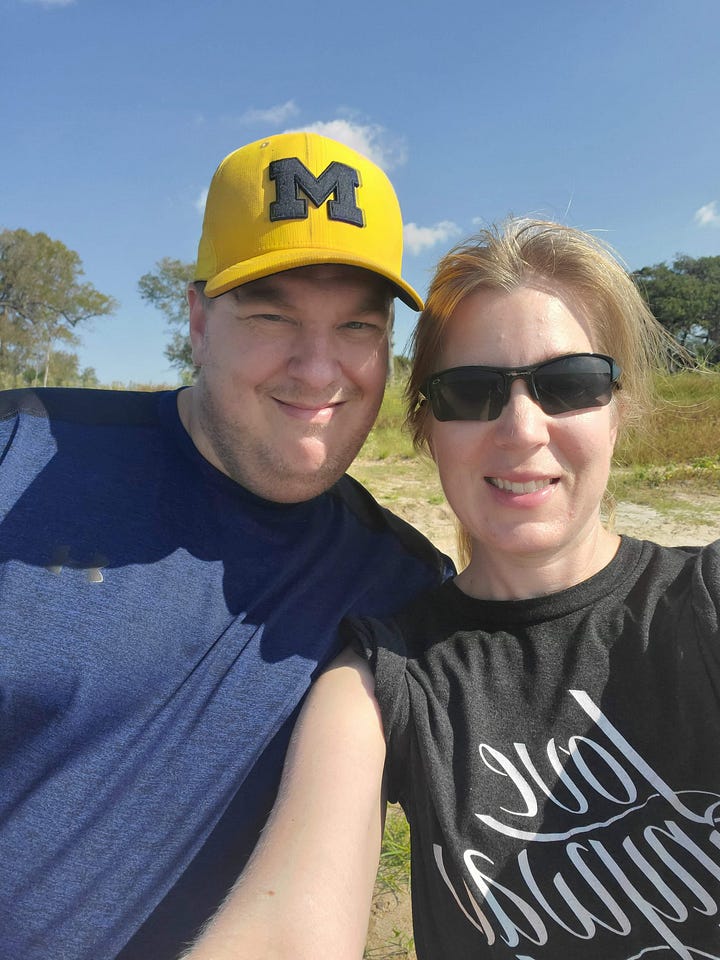 By the time we returned to the camper and the kids had showered off the mud that they had spread all over their bodies while they were swimming, Jeff and I decided it was time for a short biking date to check out the fishing options. On the way to the Beech Creek family fishing hole we saw an entire family of deer before we continued to the pier at the lakefront.
By the time we returned to the kids, Jeff decided that the best option for fishing would be the shallow but supposedly stocked family fishing pond, particularly because it was secluded. While I made dinner, he took both kids to the hole to try to catch more than just weeds.
Our son only managed to catch one that escaped before he pulled it out of the water.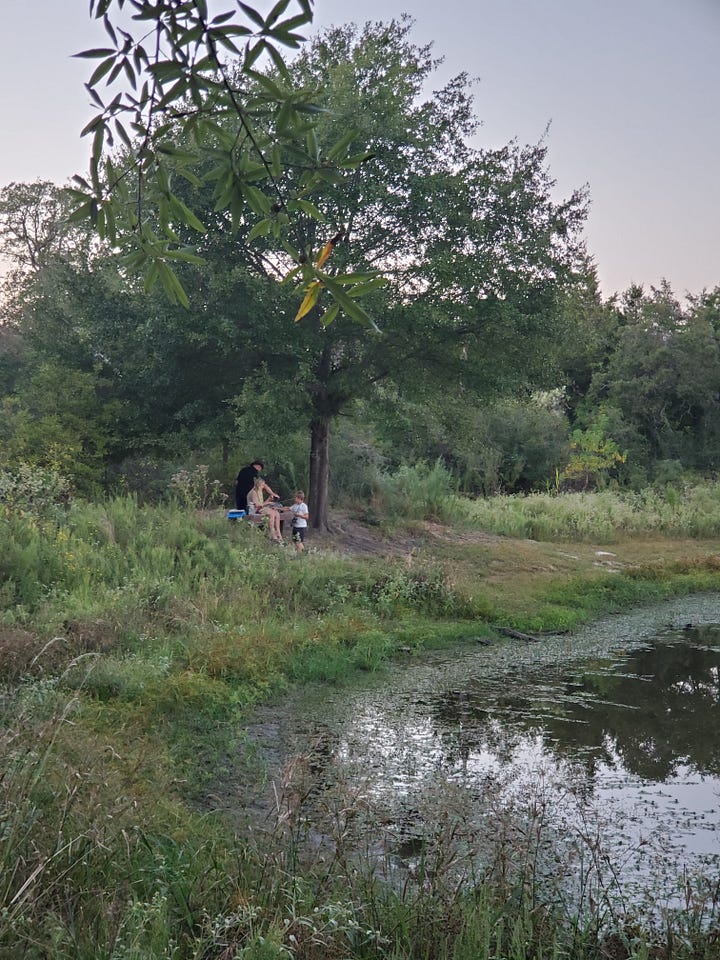 We finished the night with a campfire, makeshift s'mores made in ice cream cones and cooked over the fire (we're still perfecting that one), and adult beverages for mom and dad once the kids were in bed but not asleep.
When we woke up on Sunday morning, the only thing we still needed to do to make my camping weekend complete was hike one of the many trails. We jumped on the Bluestem Bend Trail which connected to our campground, took it to the Eagle Point Trail (where we didn't see any of the promised bald eagles), and then headed back to the camper so we could leave before our noon checkout time.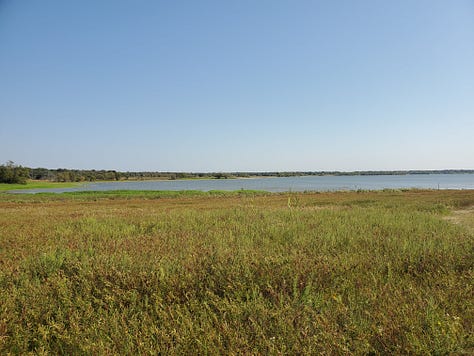 In the end, we discovered a new park that had never been on our radar. The lake and swimming quickly made the park a favorite for both kids, although I admit that personally I still prefer either Lake Livingston or Huntsville for both fishing and hiking. But Lake Somerville has definitely found its place on our short list for when we are looking for a weekend getaway from the city.
---
Please "like" by clicking on the ❤ and share this post with your friends so that others can join me on the journey.
On the Journey is a reader-supported publication. To never miss a post and support my work, consider becoming a free or paid subscriber.