Discover more from On the Journey
Reflections on middle age, family, faith, citizenship, and travel
Embracing Our Inner Jedi at Hollywood Studios
We had waited for the new attractions to be built and didn't regret our return to the Disney theme park
In Mission: Wanderlust, I write and podcast about our family's travel adventures and the things that we have learned along the way.
---
In May of my sophomore year of college, my choir went on tour to the southeast, along the way making a two-day stop in Orlando that included a choral performance and then an entire day to enjoy the Disney park of our choosing.
I chose MGM Studios.
I spent the day with friends hanging out with movie characters, watching the Indiana Jones stunt spectacular and Beauty and the Beast, proving I wasn't a coward by going on the Tower of Terror, and going on the now-replaced Studio Backlot Tour. I embraced movie magic and enjoyed every minute of it.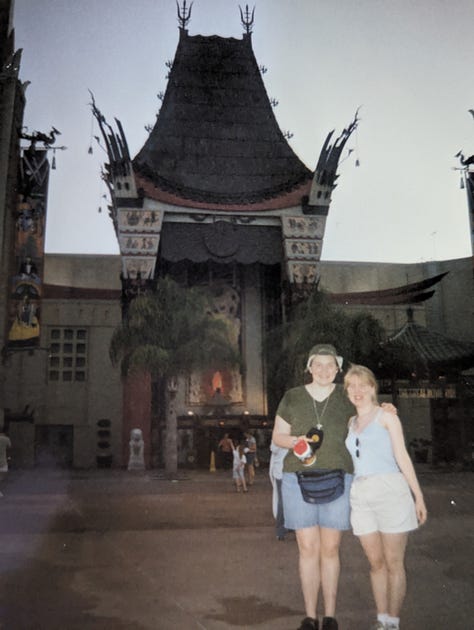 That was in 1999, just ten years after the theme park became the third of now four Disney theme parks in Orlando. Eventually, the park changed its name, officially reopening as Hollywood Studios on January 7, 2008. By the time our family started making our 2017 plans to visit all four Disney parks, Hollywood Studios had changed considerably from the MGM studios I had visited as a college student. The Backlot Tour was gone and replaced by the beginnings of Toy Story Land. Aerosmith had its own ride. And Star Wars was beginning to take over an entire section of the park, new attractions expanding beyond the original Star Tours (which still exists to this day but has undergone story changes over the years).
When we packed up our little Jedi padawans for a day of adventuring at Hollywood Studios, we had no idea what was in store for us. But the park was clearly in transition, the first rides of Toy Story Land in place and signage all over for the incoming Galaxy's Edge, a complete recreation of the world of Star Wars. Both kids went through the Jedi training academy (which hasn't returned since the start of the pandemic), we met Chewy and BB-8, and they made their own lightsabers in the first iteration of the lightsaber workshop. We enjoyed Toy Story Mania as a family, getting a taste for what the new Toy Story Land would be, and then dreamed about what it would be like to step into a galaxy far, far away. Of all of our experiences during that family vacation, Hollywood Studios was the day that convinced us that we needed to return to Disney when it was all built.
And our return trip in July proved that it was everything we wanted it to be and more.
We arrived in the park as soon as it opened, our son itching to complete his Star Wars dream list during the entire day that we were there. That meant walking down Hollywood Boulevard and straight toward Galaxy's Edge, trying to navigate a park that had changed significantly since our last visit six years before. Our first stop was Star Tours, which Jeff and our daughter had no interest in doing because Jeff wanted to save all potential motion sickness for the new Star Wars rides. Our son and I wove through the short line to sit in the 3D motion ride, enjoyed it, and then we continued as a family to Galaxy's Edge.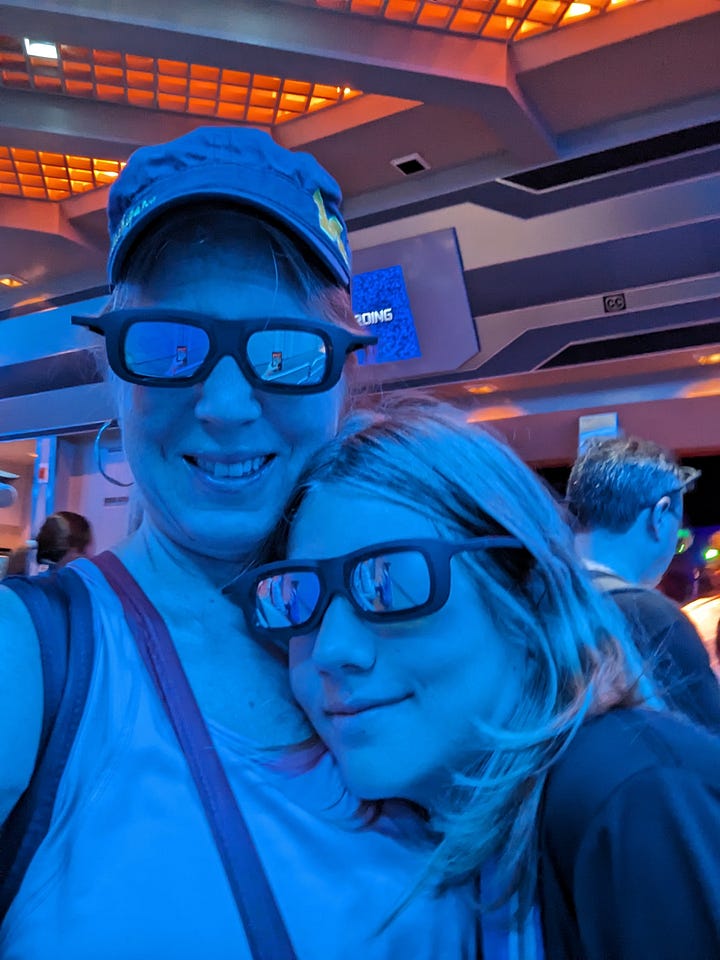 We had heard the stories. We had been told that Rise of the Resistance was a must-do at Hollywood Studios. And with the line less than an hour long, we entered the gate and walked into a different world, surrounded by caves and Star Wars gear from years' past.
Rise of the Resistance set the bar high for the rest of our time in Orlando. The immersive ride experience takes you on a secret mission in which riders are then captured by the First Order, exiting the "ship" into a bay full of Stormtroopers. Then you get into a trackless car that zooms forward, backward, and drops as you try to escape the First Order and return to the base of the Resistance. We felt like we were in the Star Wars world and agreed it was worth every minute we stayed in line (and would have been worth an even longer wait).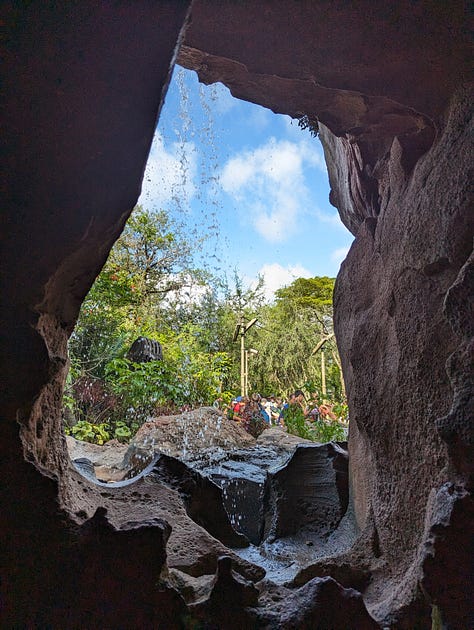 Next, we started walking through the market in Galaxy's Edge, before our daughter reminded us that we needed to head back to the Indiana Jones Stunt Spectacular, which hasn't changed much over the years, but it still tremendous fun each time.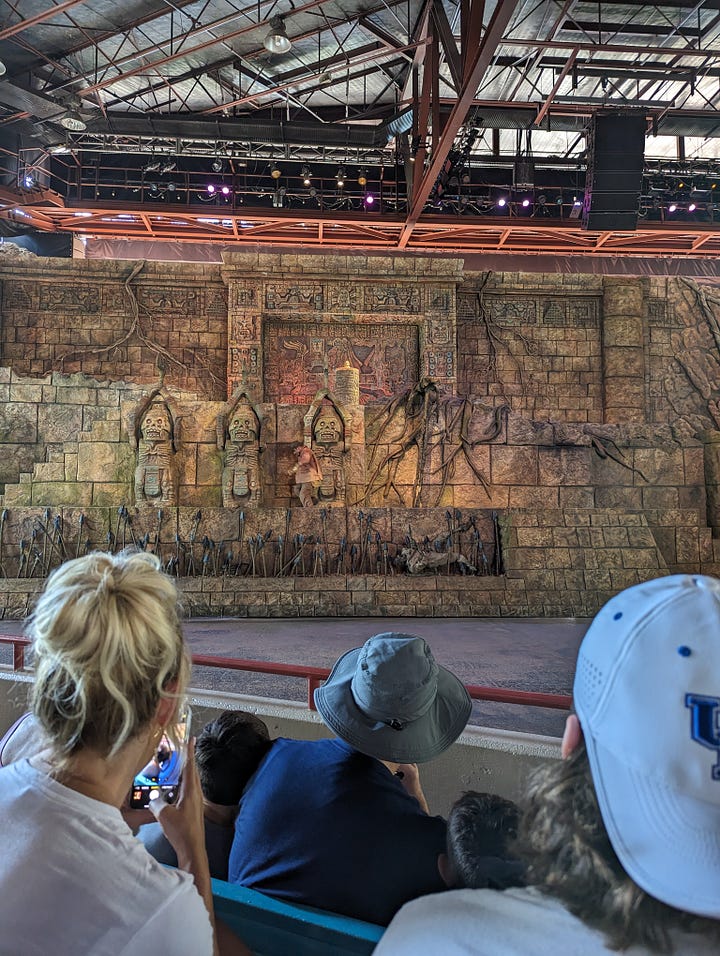 Since we were still in the Echo Lake area, we went to the Frozen Sing Along, our daughter and I singing our hearts out and giggling with delight at the falling "snow" at the end of the live-action show. Then we were back around the circle so that we could eat grilled cheese and tater tots at Woody's Lunchbox.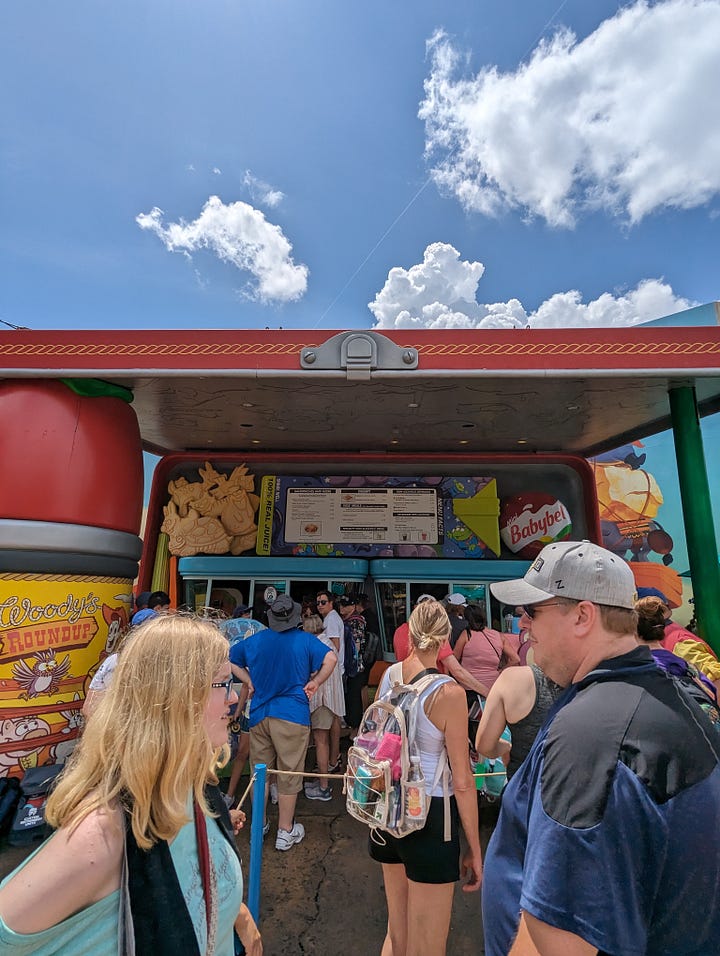 Jeff and our daughter were now ready to wait in line to test the limits of their penchant for motion sickness. We had heard that Smuggler's Run, a 3D simulated ride that takes you onto the Millenium Falcon, could be dangerous to those who can't handle much sudden and rocky motion. And it is full of motion, but with the two of them in the back as engineers, they were able to push buttons and focus on their tasks without looking at the screen unless absolutely necessary. The two strangers on the ride with us (a father and his young son) were our pilots while our son and I manned the guns. We all exited the ride ready to try it again if the line ever went down, and our two motion-sickness-prone family members had no problems.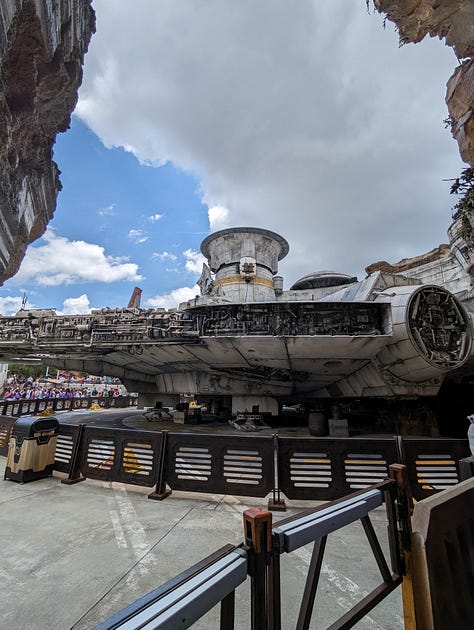 To settle from the simulated motion, we headed over to the Muppet Vision 3D (which actually has 4D features) before we split up so that Jeff could take our thrill-seeking son to the Tower of Terror (once when I was 20 was enough, thank you) and I could take our daughter to see the live Beauty and the Beast performance (with a quick side trip to see "Mickey and Minnie's Vacation Fun" before).
Then we had to check out the Mickey and Minnie Runaway Train ride in the Chinese Theater, which has replaced the Great Movie Ride that had been there since the park opened. The line had been over an hour long all day and we just couldn't figure out why. The Great Movie Ride had been fine and amusing but far from exciting. What could they have possibly done in the space to improve upon what was already there?
A lot. They could do a lot. They gutted the original ride and put in a trackless system, similar to what we experienced with Rise of the Resistance. Once we got through the first set of doors, the cars of the "train" broke apart and we were moving forward, backward, and sideways through the ride. Extra effects, such as wind in the middle of a tornado, added to the excitement. While it is far from a thrill ride, we thought it was fun, even if it did get paused twice while we were in the cars.
Then it was back to Galaxy's Edge to finish our night in the land of Star Wars.
We ate dinner at Docking Bay 7, feeling like we were actually eating in a Star Wars movie while also having some of the healthiest food of our trip.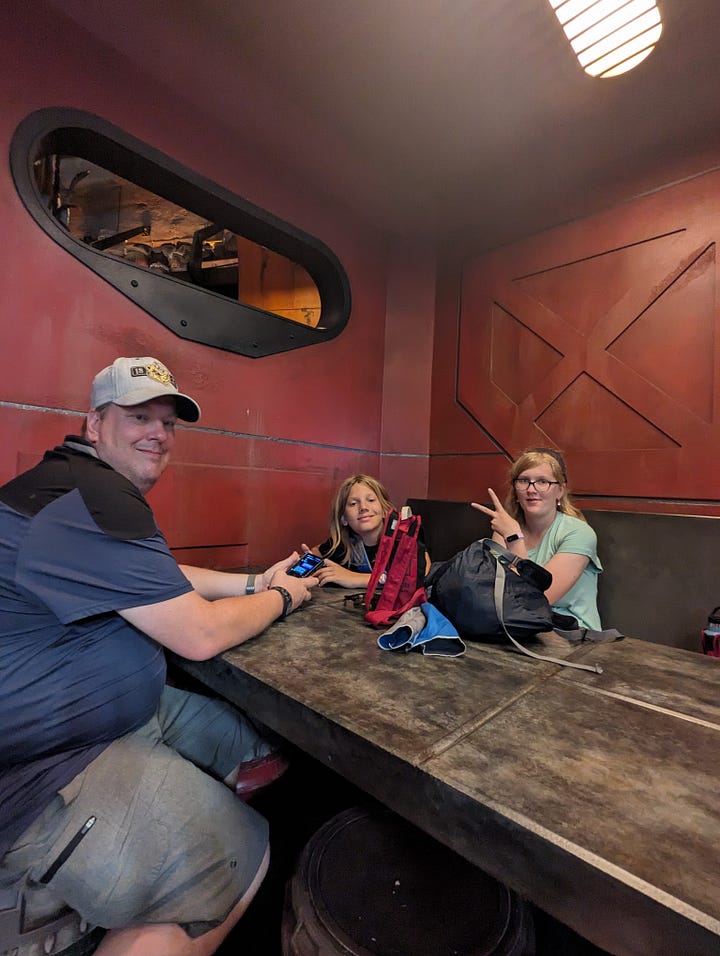 Still waiting for the line for Slinky Dog Dash to go down (we never did get to try it because it was never less than 90 minutes), we stopped through Toy Story Mania for a replay of the experience when the kids were much younger. We walked through giant toys and into Andy's bedroom before getting into cars to play virtual carnival games.
Then the highlight of the day for Jeff and our son: building their own lightsabers at Savi's Workshop. (For a full Reel of the experience, go here.)
I believe that two things can be true at the same time: Disney has become overpriced and greedy and they charge too much for experiences, and some experiences are still worth every penny.
I didn't want them both to do the experience. It was way too much money, and we were already stretched to the max. But it became the coolest nerdy thing I have ever been a part of. I can't even begin to describe it. Just watch the Reel linked above. It's the best that I can do.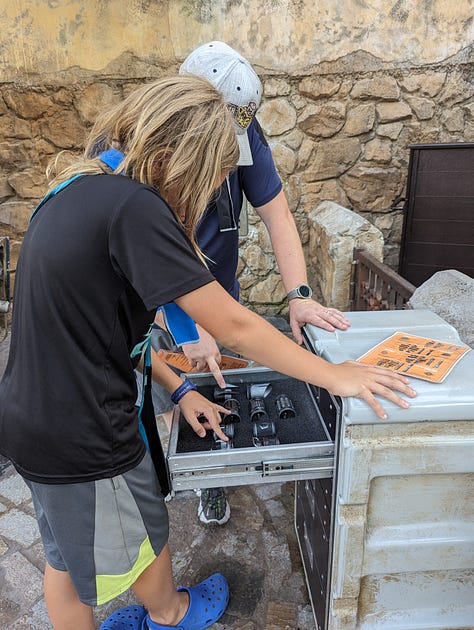 Because they were able to get in before their scheduled session, we had just enough time to race through the shortened lines of Smugglers Run and Rise of the Resistance one more time each, sneaking through the gate to Rise of the Resistance with a crew of other Star Wars fans who decided to exchange that night's light show for one more immersion into the Star Wars universe.
We didn't regret it.
The changes at Hollywood Studios were the original reason for our promise to return six years ago, and after a very full day, Jeff and I didn't regret our decision. Our kids are now the perfect age with the right amount of movie and now Disney+ knowledge to make every aspect of the park fun from beginning to end. The rest of our vacation was going to have a lot to live up to.
For the full Reel of our day at Hollywood Studios, go here.
Want to try out paid subscriptions for free?
Refer my Substack to some friends you think might appreciate my work. Get one month for three referrals, three months for eight referrals, and six months for fifteen referrals. You can get referral credit for everything from emailing a post to friends, posting it on your favorite social media, or restacking the post on the Substack app. Once a friend signs up for my Substack, you get referral credit!
Order my new book!
I've written a memoir collection of essays based on several of my blog posts from the past seven years. A couple of the above essays can be found in this very book. It is available for purchase on Amazon.com.
And if you do purchase, please give it a favorable review on Amazon and Goodreads, or any other book tracking app that you might use.
---
Please "like" by clicking on the ❤ and share this post with your friends so that others can join me on the journey.
On the Journey is a reader-supported publication. To never miss a post and support my work, consider becoming a free or paid subscriber.